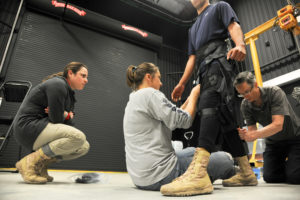 ORLANDO, Fla., November 16, 2012 – Mindspot Research is teaming up with The Disability Wellness Center located in Sanford, Florida, to make purchasing an exoskeleton from Ekso Bionics a reality. The exoskeleton is a wearable robot that enables people with spinal cord injury or disease which impacts their mobility to stand and walk. For those suffering from paralysis, the Ekso Bionic suit turns the dream of walking into reality. For every LIKE the Mindspot page gets on Facebook and every Follow on LinkedIn or Twitter, Mindspot Research is donating $1.00 toward the purchase of the Exoskeleton.
Why would a Marketing Research company do this? For Mindspot Research CEO, Lynnette Leathers, it is about making a difference in the world, and about her sister who is a member of The Disability Wellness Center in Sanford, Florida. The exoskeleton has the possibility of helping many people living with mobility challenges by improving their circulation, mobility and the quality of their lives. The Six Million Dollar Man aired on television in 1974 at a time when bionics was only an idea. Lee Majors played the main character and the show opened with this memorable line: "Steve Austin, an astronaut, a man barely alive. Gentlemen, we can rebuild him, we have the technology. We have the capability to make the world's first bionic man." Unfortunately, injury and illness occur in our society and a cure is needed, whether it's a bionic, physiological, or a medical breakthrough—it is possible because we now live in a world where technology advances rapidly and bionics are a reality. We have come a long way since 1974.
Ekso Bionics is about encouraging people to rethink their current physical limitations and achieve something remarkable. The company has received research grants from the Department of Defense and worked in conjunction with U.C. Berkley, and today Ekso Bionics designs some of the most forward-thinking and innovative solutions for people looking to augment human mobility and capability. When asked why she started a cause marketing campaign focused on acquiring a bionic skeleton, Ms. Leathers said, "I am standing for curing paralysis in my lifetime. If you wait for someone else to do the work it doesn't happen. If you think one person can't make a difference then you can't. I believe one person can change the world for the better. For me, getting the Ekso to Florida is the first step to finding a real cure. To get anything accomplished you have to do something. Change one thing. Make one commitment, and I am committed to doing this."
Since Mindspot Research began working with the Disability Wellness Center, the Ekso Project has gained some momentum. Ekso Bionics, the manufacturer has added this cause to their website so people have the opportunity to donate directly to them on their webpage. A benefit called "Moulin Rouge" is planned for Sunday, December 2, 2012, at the Winter Park Community Center in Winter Park, Florida, that will feature food, fashion, music and dance. The proceeds will go to The Disability Wellness Center.
About Ekso Bionics: Ekso Bionics is about encouraging people to rethink their current physical limitations and achieve something remarkable. The company has received research grants from the Department of Defense and worked in conjunction with U.C. Berkley, and today Ekso Bionics designs some of the most forward-thinking and innovative solutions for people looking to augment human mobility and capability. For more information, visit www.eksobionics.com/eksohope 
About Mindspot Research: Mindspot™ is a full-service global marketing research company specializing in online research. Known for fast, thoughtful marketing research with actionable insights and results that improve in-market success, Mindspot is the choice for companies needing quality work completed on a tight timeline. Services include Online Surveys, Online Focus Groups, Focus Group Moderation Services, Video Customer Profiles, and Strategic Marketing and Research Initiatives. For more information, visit Mindspot Research at:
Please follow and like us: